Somerset Fire Pits come in two sizes.
The Original Somerset Fire Pit is 400mm diameter and 145mm deep.
The Large Somerset Fire Pit is 500mm diameter and 160mm deep.
Both Somerset Fire Pits are made from 1.2mm thick mild steel.
Standard Somerset Fire Pit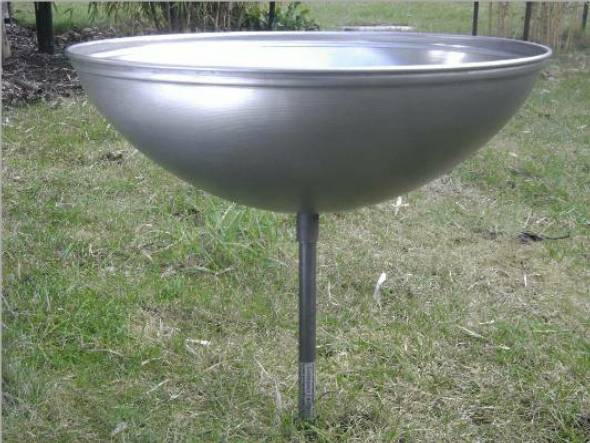 The Standard Somerset Fire Pit consists of an Original or Large Somerset Fire Pit and a steel spike.
The steel spikes are 380mm tall.
The innovative design, allows Standard Somerset Fire Pits to remain vertical on uneven ground.
The two piece design also allows for easy storage and packing into the boot of a car.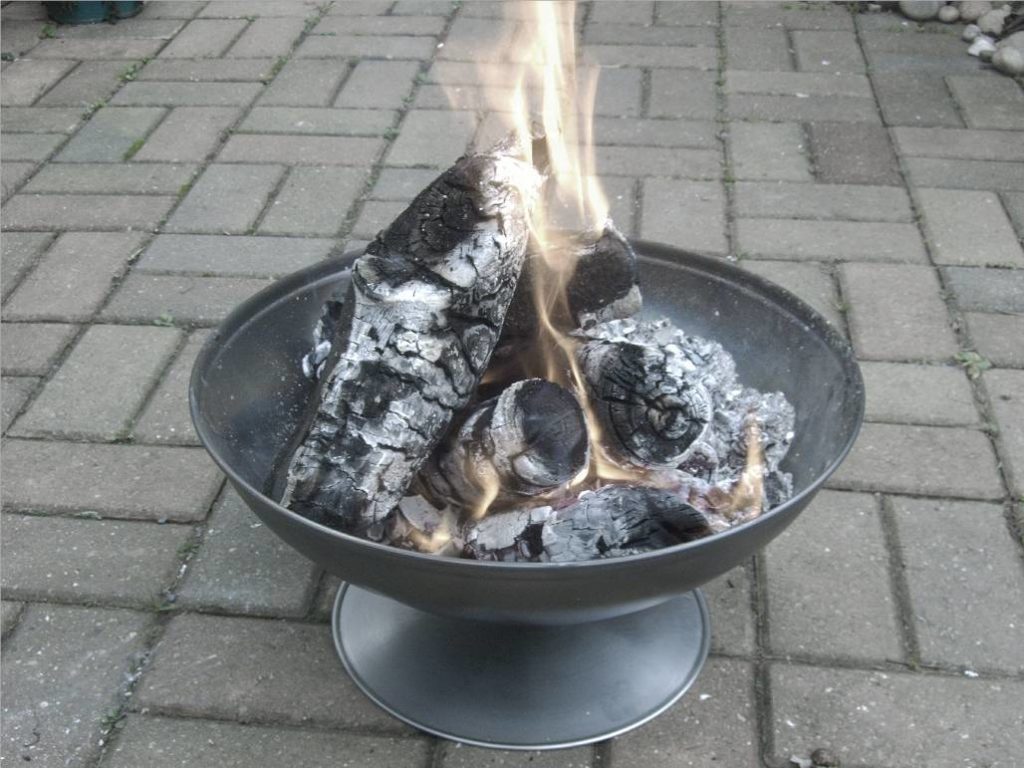 You can also purchase a base disc which  allows the Somerset Fire Pit to be used on hard standing, such as a patio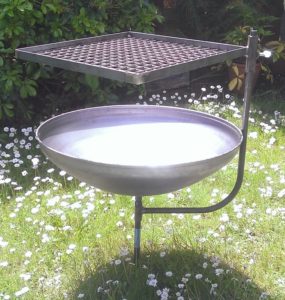 The Somerset Fire Pit Grill can turn your Somerset Fire Pit into a barbecue.
The grill height is adjustable to control cooking speeds.
The grill is made of stainless steel and is removable so that it can be washed in a dish washer.
The Somerset Fire Pit Grill is only for use with a Standard Somerset Fire Pit. If used with a patio base disk there is a risk of the Somerset Fire Pit tipping over.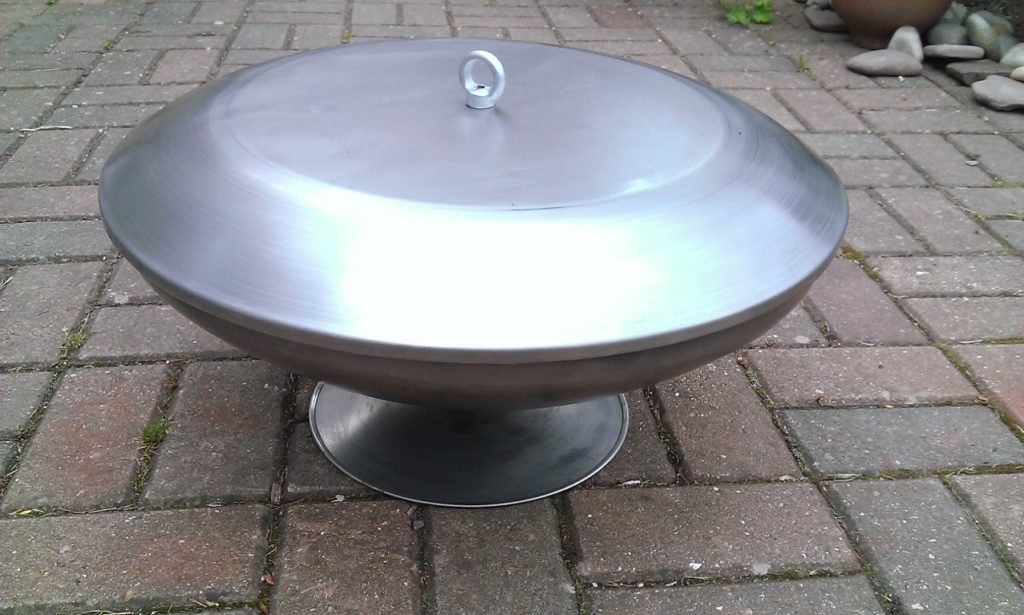 There are lids available for both Original and Large Somerset Fire Pits.
Ideal for putting the fire out when camping. sleep easy, knowing that you fire isn't going to flare up in the night and catch your tent alight!
If you are burning wood, you will have a fire pit full of charcoal in the morning for a barbecue.
Poke and stoke your fire from a safe distance with a PokaStoka. No more singeing your eyebrows whilst breathing new life into your fire.
The PokaStoka comes in two parts so that it fits in the drawstring bags.
Made of Mild Steel tube and painted with matt black stove paint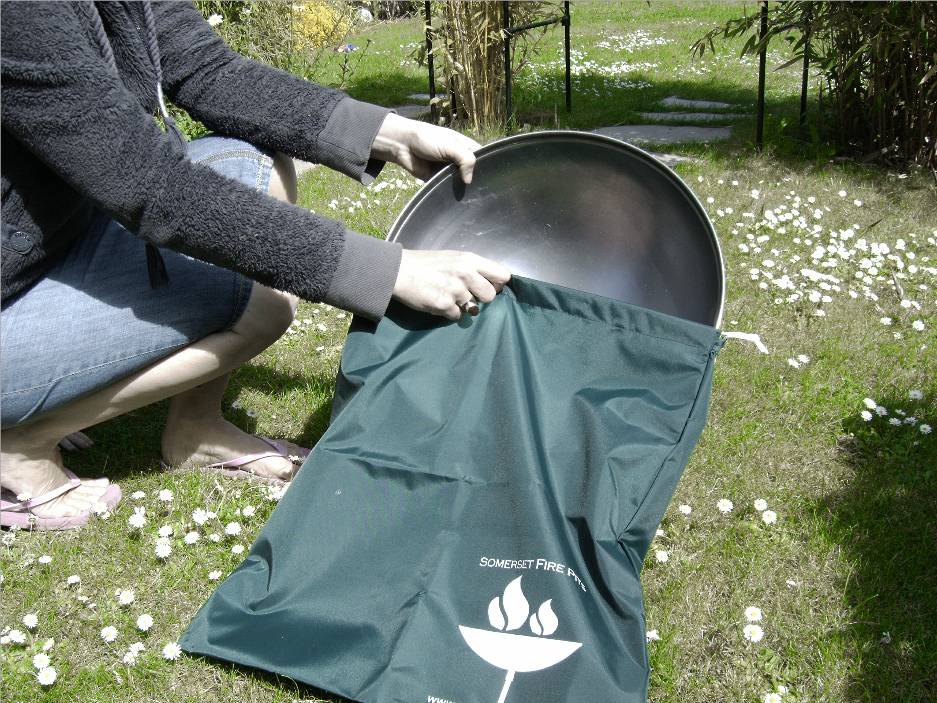 Keep you Somerset Fire Pit and accessories stored away in one of our drawstring bags. Stop any ash from dirtying the rest of your camping gear when it is packed in the van. Made from durable, waterproof nylon and nylon cord. (Colours may vary from the photograph)
Raise your Somerset Fire Pit a further 450mm off the ground with an Extension Leg. Ideal for those of you who like to barbecue standing up.
The Extension Leg is only for use with a Standard Somerset Fire Pit. If used with a patio base disk there is a risk of the Somerset Fire Pit tipping over.
The Toasting Fork fits on the end of the PokaStoka and enables you to toast bread and marshmalloes whilst stoking the fire.
WARNING
Somerset Fire Pits are for outdoor use only.
Do NOT use your Somerset Fire Pit indoors, in an enclosed space, in a tent, awning, caravan, campervan or mobile home.
DANGER OF CARBON MONOXIDE POISONING
Do Not use the bowl of a Somerset Fire Pit as a saucepan and cook food directly in it. The bowl should only be used to hold the fire.
WARNING
The Somerset Fire Pit bowl will become very hot when in use.